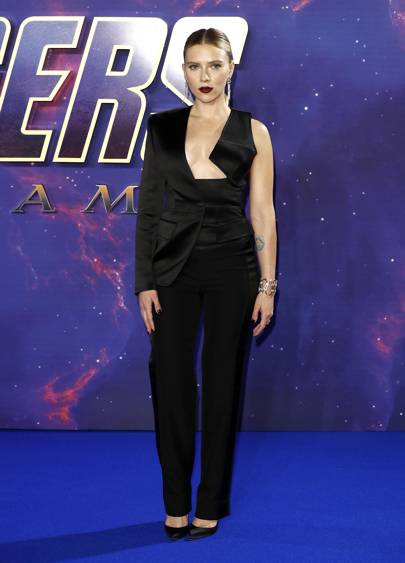 Premieres for superhero franchises have, of late, become showcases for blockbuster red-carpet wear. The recent Captain Marvel promo trail saw Brie Larson wear custom Valentino couture (a voluminous caped gown in superhero-blue) and bespoke Rodarte (a gold slip embroidered with the official emblem of the intergalactic warrior). The Aquaman premiere at the end of last year, meanwhile, saw Amber Heard make a splash in sea-green embroidered Valentino couture complete with a matching swimming cap.
It came as something of a surprise, then, that an Avengers: Endgame red-carpet event in London on April 10 saw Scarlett Johansson, who plays Black Widow in the Marvel series, strip things back. Styled by Molly Dickson – a Hollywood dresser who is slowly but surely climbing up the ladder – Johansson wore a Tom Ford spring/summer 2019 suit. The twist? Most of the left side of the asymmetric blazer was missing.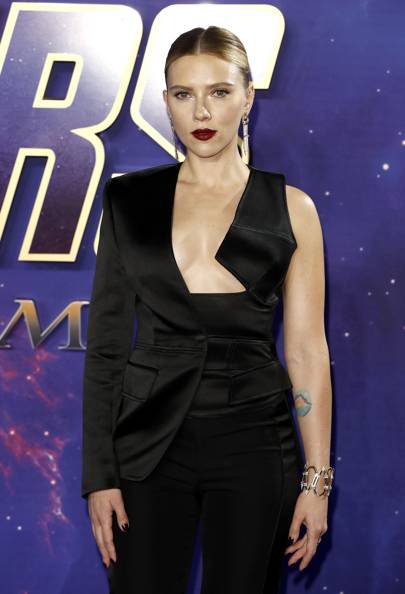 The tailoring came from a collection that saw Ford openly reference his Gucci years (read: sexy minimalism) and muse on why he became a fashion designer in the first place: "to make men and women feel more beautiful and to empower them with a feeling of confidence," he told Vogue fashion critic Anders Christian Madsen at the time.
"I [felt] that fashion has somehow lost its way a bit, and it is easy for all of us to be swept up in trends that have lost touch with what women and men want to actually wear," Ford continued. Johansson's souped-up city-slicker approach to superhero red-carpet wear might not be a fantastical nod to the Avengers franchise, but it radiates confidence.